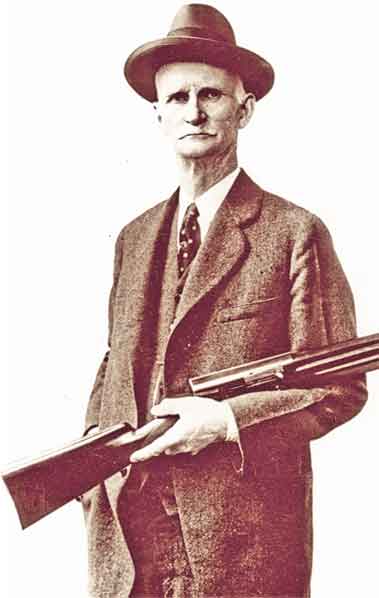 JAN. 23, 1855
Birth of John Moses Browning in Ogden, Utah.


OCT. 1869
John assembles a slide rifle out of spare parts.
SPRING, 1878
John Browning begins work on his first single shot rifle.
APRIL 10, 1879
John Moses Browning marries Rachel Teresa Child.
MAY 12, 1879
The application for patent on the single shot rifle is filed.
OCT. 7, 1879
U.S. Patent No. 220,271 is granted to the single shot rifle.
1880
With the aid of his brothers, John Browning establishes his arms factory in Ogden.
MAR. 20, 1882
Patent application is filed on bolt-action repeating rifle with a tubular magazine.
JULY 25, 1882
U.S. Patent No. 261,667 is granted to the bolt action repeater.
SEPT. 13, 1882
Patent filed on lever action, exposed hammer, tubular magazine rifle.
SPRING, 1883
Mr. T. G. Bennett, Vice-President and General Manager of Winchester Repeating Arms Company, comes to Ogden, Utah Territory, and forms an alliance that is to last nineteen years and is to change the course of firearms development. As part of the transaction, the Single Shot is sold to Winchester, and Mr. Bennett is assured of first rights on a new repeater. The Single Shot becomes the Winchester Model 1885.
MAY 26, 1884
Patent filed on lever action repeating rifle that employs sliding vertical locks.
OCTOBER, 1884
Patent No. 306,577 is granted on the new repeater and John, together with his brother Matt, travel to New Haven, Connecticut, to deliver to T. G. Bennett what is to become the famous Winchester Model 1886.
FEB. 16, 1886
Patent No. 336,287 is granted on a lever action repeating shotgun. Known as the Winchester Model 1887, it is the first successful repeating shotgun.
MAR. 28, 1887
John leaves for Georgia to spend two years as a Mormon missionary.
DEC. 13, 1887
Patent is filed on a 22 caliber pump action repeating rifle. It has been called "the most popular 22 caliber pump action rifle ever made." Patent No. 385,238 was granted on June 26, 1888. First marketed as the Winchester Model 1890.
FALL, 1889
Begins development of the first models that were designed to employ the expanding gases behind the bullet to operate the action.
JAN. 6, 1890
John files his first patent dealing with gas operation.
JUNE 30, 1890
Patent application is filed on a pump action repeating shotgun later marketed as the Winchester Model 1893. A later, improved take-down version was known as the Winchester Model 1897.
AUG. 3, 1891
Patents filed on two separate automatic gas operated guns.
NOV. 7, 1892
Files first patents on the Colt Model 1895 Automatic Machine Gun. Earned the name "Browning Peacemaker" during the Spanish-American War. Also known as the "Potato Digger."
JAN. 19, 1894
Files patent on what would become the Winchester Model 1894, the first repeating action sporting rifle to handle smoke-less powder cartridges. This rifle is ascribed by many to be the most popular high powered rifle ever built.
NOV. 19, 1894
Patent is filed on a lever action repeating rifle with a non-detachable box magazine de-signed for jacketed sharp-nosed bullets. Marketed as the Winchester Model 1895.
SEPT. 14, 1895
Files patent application on first semi-automatic pistol.
OCT. 31, 1896
Three basic pistol patents are filed that concern blow-back action, a locked recoil sys-tem with a turning lock, and a locked recoil system with a pivoting lock.
JULY 17, 1897
A contract between Browning and Fabrique Nationale is signed which authorizes the Belgium firm to manufacture a blowback operated, 32-caliber semi-automatic pistol for all markets outside the United States. Production commences in 1899.
FEB. 17, 1899
Application for patent is filed on a single shot 22-caliber plinking rifle known as the Winchester Model 1900.
FEB., 1900
Colt places a Browning designed 38-caliber recoil operated semi-automatic pistol on the market. It was the first semi-automatic pistol in the United States.
FEB. 8, 1900
The first of four patents is filed on the revolutionary autoloading shotgun. It would be manufactured by Fabrique Nationale in 1903 and by Remington Arms Company in 1905.
OCT. 6, 1900
The first successful auto-loading high-power rifle receives Patent No. 659,786. U.S. manufacturing and sales rights are granted to Remington Arms Company, and the rifle first appears in 1906 as the Model 8.
JULY 16, 1901
Browning submits a blow-back operated 32-caliber semi-automatic pistol to Colt, who immediately accepts it. The marketing agreement stipulates that the pistol will be priced low enough to compete with the revolvers of the period.
JAN., 1902
In a disagreement about the public acceptability of the auto-loading shotgun, John Browning severs his nineteen-year relationship with T.G. Bennett of Winchester.
JAN. 8, 1902
An appointment is made to show the new shotgun to Mr. Marcellus Hartley of Remington. This meeting is cancelled due to Mr. Hartley's untimely death that afternoon.
FEB., 1902
With his autoloading shot-gun securely tucked under his arm, John Browning embarks on his first ocean voyage. He offers the new shotgun to Fabrique Nationale.
MAR. 24, 1902
A contract is signed granting FN exclusive world rights to manufacture and sell the auto-loading shotgun.
JULY 10, 1903
Patent application is filed on a pump action shotgun that would become the Stevens Model 520. SUMMER,
1903
At the request of FN, Browning develops a 9mm military semi-automatic pistol.
1904
In the face of restrictive tariffs, FN agrees to cede to Remington the rights to manufacture and sell the autoloading shotgun in the United States. It appears as the Remington Model 11.
JUNE 21,1909
The application for a patent on a 25-caliber semi-automatic pistol was filed. It is manufactured and sold by both FN and Colt. It is part of the Browning Arms Company line from 1955 to 1969.
FEB. 17, 1910
Patents were filed on a 45-caliber semi-automatic pistol. It serves as the official United States military sidearm for al-most 75 years.
NOV. 26, 1913
Files patent on a pump shot-gun that would be marketed as the Remington Model 17. It is John M. Browning's last repeater-type shotgun.
JAN. 6, 1914
Patents are granted and production begins on a semi-automatic 22-caliber rifle. Remington also produces this rifle as the Model 24.
FEB. 27, 1917
First public demonstration of the Browning 30-caliber Heavy Machine Gun at Congress Heights, Washington, D.C.
JULY, 1917
Begins work on the 50-caliber Water Cooled Machine Gun. Completed too late for World War I, this weapon plays a prominent role in World War II and Korea.
AUG. 1, 1917
Application for patent filed on the Browning Automatic Rifle. The B.A.R. first saw combat in 1918.
JULY 26, 1919
Patent application filed on a 22 pump action rifle that would be produced exclusively by Fabrique Nationale.
EARLY 1921
John M. Browning begins work on his first 37mm Aircraft Cannon.
OCT. 15, 1923
The first of two patents are filed on the Superposed Over/ Under shotgun.
JUNE 28, 1923
Patent application was filed on a 9mm short-recoil, locked-breech, exposed-hammer semi-automatic pistol. This was John M. Browning's last pistol development.
NOV. 26, 1926
John Moses Browning dies of heart failure at Liège, Belgium.
SEPT., 1927
J.M. & M.S. Browning Company is incorporated in Utah with the Browning Arms Company as a subsidiary.
1928
The Superposed shotgun is introduced into the Browning Arms Company line.
1930
St. Louis distribution center and sales organization is established. Ogden remains the headquarters, directing all activities.
1936
Auto-5″Sweet Sixteen" is introduced.
1940-42
After the German occupation puts a stop to Belgian production, Remington makes an American-made Auto-5 for Browning. This is their Model 11, but included the magazine cut-off, which was not a part of the Model 11. U.S. entry into the war ended this production.
1945-49
Remington resumes making the American-made Auto-5 for Browning until discontinuing production of the Model 11 to introduce their new 11-49 auto-loader.
1946
FN resumes Auto-5 production. JUNE, 1948 Light 12 Auto-5 is introduced; 12 gauge Superposed is reintroduced to the American market.
1949
New 20 gauge Superposed introduced.
1951
J.M. & M.S. Browning Company liquidated, and Browning Arms Company be-comes an importer with whole-sale functions.
1954
25-caliber. 380 caliber and 9mm pistols introduced into line.
1955
Double Automatic 12 gauge shotgun introduced.
JAN. 1, 1955
A newly created Browning Industries assumes the import functions previously held by J.M. & M.S. Browning Company. Browning Arms Company becomes the parent company.
1956
22-caliber semi-automatic rifle introduced
1958
Browning Arms of Canada created, 70% Browning owned, 30% FN owned. Also a 20 gauge model of the Auto-5 added to the line. 3″ Auto-5 Magnum 12 introduced.
1960
FN Mauser Bolt Action rifle added to the line. Trombone 22 introduced to Canada.
1962-63
Acquires Silaflex and Gordon Plastics, makers of bows, rods and vaulting poles.
1962
22-caliber pistols added: Challenger, Nomad and Medalist. Archery equipment, fishing rods, ski poles and vaulting poles are added to the catalog.
1964
Browning Corporate Head-quarters relocates to Route 1, Morgan, Utah.
1965
T-Bolt 22 rifle introduced. A line of leather goods including belts, holsters and flexible gun cases also becomes available.
1965
Browning begins negotiations with Miroku Firearms in Japan. Enters the sailboat business with the acquisition of Newport Boats of California and Virginia. Assets liquidated in 1976.
1966
Archery accessories added to the line.
1967
BAR semi-automatic sporting high powered rifle is introduced. 3″ Auto-5 Mag. 20 gauge introduced.
1968
St. Louis sales operation re-located to Morgan, Utah. Ware-house/parts and service moved to Arnold, Missouri. Barth Leather Company and Caldwell Lace Company (Auburn, Kentucky) acquired. Hunting clothing introduced. Introduced BT-99 single barrel trap shotgun.
1969
Acquired Harwill, Inc., manufacturers of Fiberglass out-board and inboard motorboats as well as small aluminum boats and canoes. Liquidated in 1974. BL-22 Lever Action 22 rifle and knives added to the line.
1970
Medalist 22 target pistol added.
1971
New 380 pistol and BLR Lever Action high-power rifle added to the line.
1972
B-SS 12 gauge side-by-side shotgun added.
1973
New guns introduced: 12 gauge Citori over/under shot-gun, 12 gauge Liege over/under shotgun, B-SS in 20 gauge, B-78 single shot rifle in round or octagon barrel options.
1974
Browning line was enlarged with the B-2000 automatic shotgun in 12 gauge, the Citori 20 gauge and the Citori Trap & Skeet models.
1975
Citori 20 gauge Skeet introduced. B-2000 in 20 gauge added to the line.
1976
Further additions: Challenger II 22 pistol, BT-99 Competition, B-78 in 45-70 and 7mm, and BLR 358, Citori became available with extra barrels, Auto-S 16 gauge discontinued, Auto-5 production went to Japan latter part of 1976.
1977
Superposed discontinued (Grade I, Diana, Midas), Presentation Superposed introduced. BAR 22 and BPR 22 introduced, BPS pump shotgun introduced (12 gauge only), Jonathan Browning Mountain Rifle introduced, BBR bolt action rifle introduced, B-2000 Trap & Skeet introduced with high post rib, BDA pistol introduced in 45, 9mm and 38 Super. Also, 90% of Browning Arms Company outstanding stock was purchased by FN and Miroku.
1978
Browning enters the company's Centennial year. To commemorate this event, five limited Centennial editions were prepared. The included a Super-posed Continental over/under rifle combination, a Centennial edition of the Jonathan Browning Mountain Rifle, a replica of the Winchester Model 1892 called the Centennial Browning 92, a chromed version of the 9mm Hi-Power, and a special set of folding knives.
1979
B-92 in 44 Magnum introduced.
1980
Grade II BAR 22 introduced, 9mm nickel and Water-fowl Superposed, (Mallard Issue) introduced. Citori Sideplate and the B-80 gas operated shotgun introduced.